TESTIMONIALS & PHOTOS
Testimonials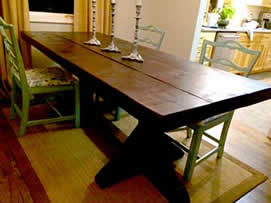 Made this table from some fir. My wife priced tables like this. They ran from 2 to 3 grand
Tracy, Camas WA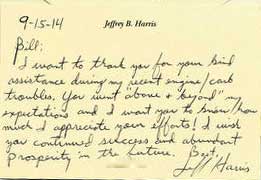 Bill,
I want to thank you for your kind assistance during my recent engine/carb troubles. You went "above + beyond" my expectations and I want you to know how much I appreciate your efforts! I wish you continued success and abundant prosperity in the future.
Jeff Harris, Edgemoor SC
---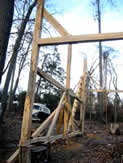 I bought a 13hp ground mill from you last summer. It's great! I've been cutting up logs in my spare time and just started building a 22 x 32 barn... beams out of oak, siding pine. I just love your mill. It's great. As a bonus I've gotten 2-3 cords of slab wood that I'm using to heat my house... I can't believe all of the wood I've wasted over the past 30 years just cutting it up for firewood... Now I view every tree as lumber. I milled a storm fallen cherry tree for lumber. My father made nice tables for Christmas presents for the grandchildren.
Richard Loper, Finksburg, MD
---
Lincoln Shepherd - Melbourne, Australia
the bandsaw has arrived! I picked it up this morning, and it is in perfect condition. I'm so happy to see it, I can tell right away I have made the right decision going with your company - it looks so solid and well built. A trucking company is taking it up to my property tomorrow and I will install it over the next few days.
You were right, the packaging was overpriced and not even very well done, but at least it has been looked after and that is the main thing. I don't think any of your orginal packaging was kept except for the blocks of wood it is sitting on. I guess they want to physically cover all exported objects. The 2 bits of broken wood were not doing anything structural anyway.
I will send some photos after it is set up. Once again, thank you for making such a good looking product, and I'm sure I will get in contact again over issues that arise or problems I need to solve.
Sincerely, Lincoln Shepherd

---
Bill Shee, Hillsboro, NH
Thanks for delivering the mill. It's working great! I've sawn approx 600 bf of pine into perfect 1X8-10's. Unfortunately, it took me till this past weekend to actually measure the wall height of my barn to find out I need 11 foot boards. Oh, well... just means more to saw.
I went to a sawmill demo at Fox Forest in Hillsboro last Sunday. They were using a competitor's mill with a 20hp Honda on a trailer. Let me tell you how much more happy I am with your mill after seeing this piece of junk. The carriage was flimsy, the blade kept riding off the wheels and the dogs and clamps were a real pain in the butt. The water coolant was messy and even though it had anti-freeze in it, it still iced up on the ground and on the track.
So, good job. You make a great product and you can put me on your list of demo operators willing to show off your wares.

Thanks again from a happy customer,
Bill

---
Joe Emerson - Deposit, New York
"I want to commend Turner Mills for producing such an excellent product. They produce a quality sawmill at an affordable price, and if you are looking for low cost of maintenance, you can't do any better..."

Read the whole letter from Mr. Emerson HERE.
---
>Jesse Remington High School Draws Crowds at Deerfield Fair

"Last year, Turner promised to donate a portable band saw to the school for Timber Framing. This year, he put his money where his mouth was, and delivered a beautiful brand new trailer model that will cut large trees into 8'X'8 posts, or any other size rough lumber that the Timber Framers would use for their buildings."

Read the whole Article HERE.
---
Daryl Oakes Logging - Cattaraugus, New York
My best buy is my Turner Band Saw. After having a Norwood sawmill for five years, as good as this little mill was, I wanted a fully hydraulic mill for easier use and more production.
I looked at Woodmizer along with others, I found an ad for Turner Mills and got a video. After comparing different brands I chose a Turner Hydraulic Mill.
This mill is very well built, and most parts can be bought at your local NAPA or Honda dealerships, this makes maintenance easier and cheaper. The main shaft did break after about 6 months of use, but one call is all it took. Bill Turner not only took care of this problem immediately, but he gave me new bearings a new shaft and sent them to my house for free. Try that with a big company, 100% satisfaction, NO COST, & NO HASSLE.
This mill is comparable with the Woodmizer LT 40, which costs about $40,000, I spent under $15,000. and to top it off this mill will out saw the woodmizer.
So if your looking for a great mill at a good price, with a company that will stand behind it 100%, call Wild Ridge Farm Inc, @ (607) 843 - 7318, ask to talk to Bill Turner, you'll be glad you did!

Sincerely,
Daryl Oakes
---
Tracy Town - Camas, Washington
I was really impressed by your operation and the saw exceeded my expectations. The website doesn't show how rigid the saw and track are. Everything is so heavy duty, if I think back about the sawmizer lt 15 and how it is built, there is no comparison. At the Oregon logging convention I also saw other brands of mills. All the band saws seem to be the same thing, nothing sets them apart. The main thing that made me buy your saw was the rubber tires and what good things I read about it on the internet forums. I was also impressed by your friendly customer service. I liked how you took the time to call me on a weekend.I am looking forward to using the saw.
Thanks Tracy
"here is some pictures of the board and bat siding I milled from a fir tree on my property. The deck was milled from some port orford cedar off my neighbors property. All the joists beams, posts and decking is port orford cedar. My next project is a small barn to store lumber."
| | | |
| --- | --- | --- |
| | | |
| | Click to see larger versions in a new window | |
---
Sy Hartman, Northome, MN
Just thought I'd let you know the mill arrived at 3:00 p.m. on Tuesday November 8th. I was very impressed with the very quick delivery and very helpful and pleasant truck driver. The Mill arrived in great shape and we had it all in place by Wednesday noon. We did our trial run today. Still have a couple adjustments to make but it sure sawed some beautiful lumber. We had a skift of snow this morning but am hoping it will hold off for awhile cause I want to spend some quality time with my Turner Mill!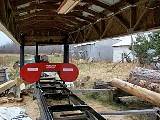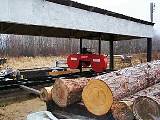 Thanks for all you did to get this mill to Minnesota. You can be sure I will advertise for your mill and your service.
Sincerely, Sy Hartman
Donn Kosmoski - West Winfield, NY
I have had about 9 months to use and enjoy my 28" Turner Mill. I must say that I couldn't be happier. Everything runs and operates exactly as Bill explained both prior to my purchase and when I picked it up. I marvel at both its design and quality of construction. This is one purchase that I can honestly say I'm completly pleased with. Thank you for a quality product!
Jeff Burt - Ontario Canada
Hey. Our wheels came in the other day. Just wanted to say thanks alot. Hope to get them on this weekend. Also wanted to say we are very, very happy with the mill so far. It works great. And, of course very happy with they way you guys have taken care of us after the sale. Doesn't seem to happen alot this day and age.
Michael Kalin - Cherryfield, ME
Processor and conveyor running great!
You did a great job!
Please send me info to get chain bar and paint codes! I wanna have backups.
Also any special hydraulic fluid I should run?
Kim Gordon - Belleville, On
We've bought the ground mill from you last year and we absolutely love it. The engineering is excellent, it make sawing very economical and fun. The tire band wheels really work and i've never had any pitch on the blades yet. the logs dogs are simple and effective, the whole mill is solidly built with real american steel! I love that we can just buy the parts at napa, it makes it so easy if there would ever be somekind of breakdown in which we haven't had yet!
Photo Gallery

Check out photos of our mills used for various projects!

Deerfield Fair 2009 >>
| | | |
| --- | --- | --- |
| Deerfield Fair, NH 2011 >> | | |
| | | |
Below submitted by Harry Richard, Raymond NH
Below submitted by Bryan Sifers, Mount Hope, WV
Bill,
I've had the mill for about two years now, and this last spring spent a solid week cutting the lumber package for a barn. Each time I use the mill I'm more and more impressed at your remarkably simple solutions to hard problems, your attention to detail, the simplicity and the ease of operation you've built into this thing. It's obvious that you've spent years milling and thinking about each issue that slowed things down or increased the difficulty of working with logs and lumber. Your mill was my first big purchase after buying my property. A very good investment on my part as it's paid for itself with my first structure. I've also found that cutting lumber to your own dimensions is a joy that's hard to describe. Talk about custom.
Many many thanks for the excellent product and the outstanding service whenever I call with a question or problem. Your product is absolutely top rate and everyone who works with the mill is choosing for a Turner.
-CR
Montana
For those thinking about buying a Turner Mill.
All of my milling experience has been with the Turner Trailer Model, so understand the bias.
Trailer model vs Ground model - I bought the trailer model and I'm very glad I did. I really didn't think I was going to move the mill very much before I bought it, and I've found that I move it all the time. Oftentimes to a neighbors house to help with a project. Sometimes into the valley to be able to have logs delivered and be able to cut through the winter in a dryer/warmer area, and sometimes around the property as things gets built or logs get off loaded. It's really handy to have the tires on it. The adjustable jack stands are mandatory. The ease of leveling the mill with this system is fantastic and well worth the money.
The frame has been incredibly tough and has held up to everything I've done to it. Mainly moving, dropping or banging the frame with heavy logs. It's stayed square and true which is a testament to the design and build.
I went with the larger 24hp engine. It's been working great, but I have nothing to compare it with, so unsure how much better it is than a smaller engine. The Honda engine has worked extremely well. One small problem with ethanol gas clogging the carb, but a phone call to Bill helped solve that problem and running non ethanol fuel has removed the problem entirely.
Really impressed with the saw blade running over the rubber tires. I have not broken a blade in two years of milling and have not dealt with any pitch on the blade at all (all of my cutting has been fir).
Accuracy has been outstanding, and any time it's wavered it's been due to a dull blade. If you are careful with your measurements you can reliably produce lumber that's easily within a 1/16.
My mill came with an electric winch that raises and lowers the saw head. It's slow and it takes some fiddling to get it right where you want it. I would talk with Bill and seriously consider using the manual winch.
I burn through blade bearings about once a week if I'm cutting eight hours per day. Most especially the outgoing bearing where the saw blade exits the log. It's a quick and inexpensive fix, but having a number of these bearings on hand saves me a long drive.
If you're rolling logs by hand I would highly recommend a long peavey and a short handled cant hook. Watch the video of Bill milling lumber and you'll learn how to efficiently move around the saw and where to stack flitches and lumber.
Building a log deck that you can load multiple logs onto, and them simply rolling them onto the mill is worth the time if you're going to do much milling.
Best,
CR
Montana